Basic Green 4, also called Malachite green, is an organic compound used as dyestuff. Malachite green is a kind of basic dye traditionally used for dyeing materials such as silk, leather, and paper.
Hebei Ruixin manufactures and supplies quality Basic Green 4(Malachite Green) at competitive price.
Technology and production line: Advanced tech and equipment adopted from Korea
Annual production capacity of basic green 4 (MALACHITE GREEN OXALATE): 2200MT
Forms: Basic Green 4 Crystals, Basic Green 4 Powder and Basic Green 4 Liquid.
Heavy metal ( lead, zinc) content: Zero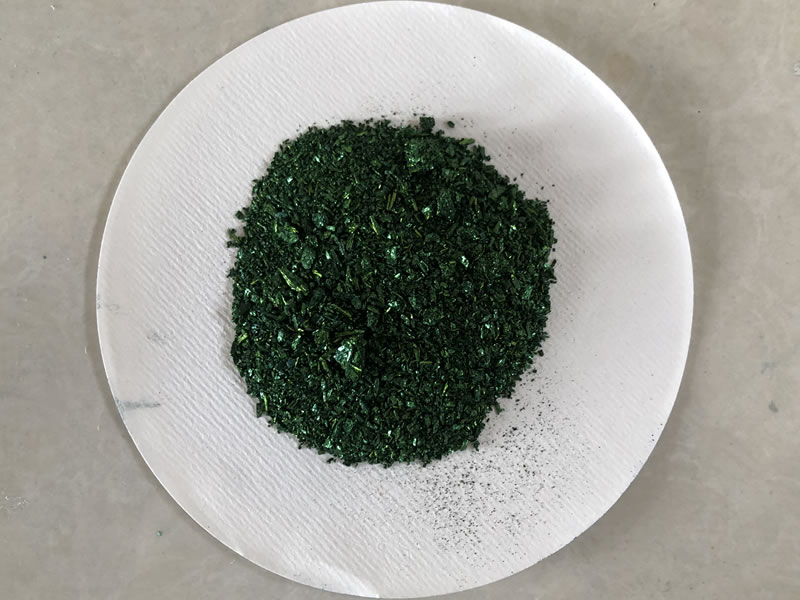 Malachite Basic Green 4 Crystals
Appearance: Green Shining Crystal
Melting Point: >112 Degree Celsius
Usage: Ink Dyestuffs, Leather Dyestuffs, Paint Dyestuffs, Wood Dyeing.
25kgs Iron Drums Inner Plastic Bags.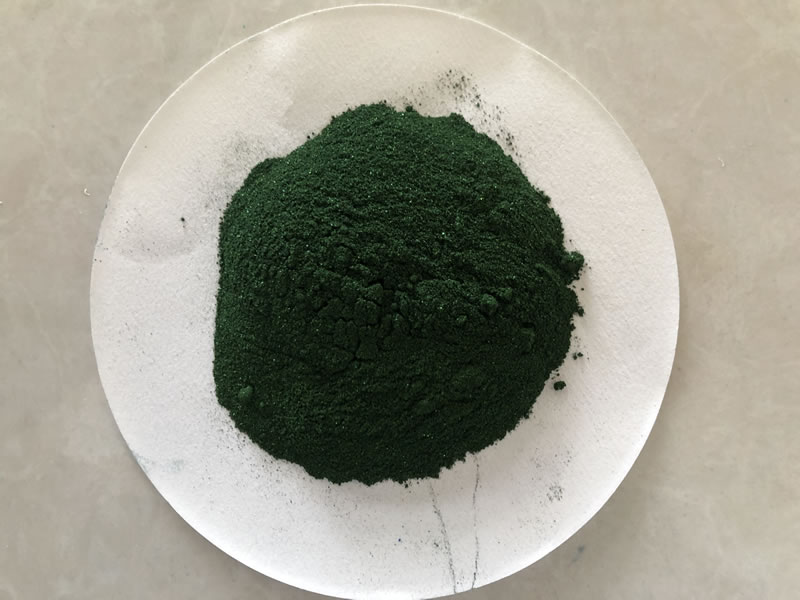 Green Shining Powder Malachite Green, Basic Green 4
Chemical Formula: 2C23H25N2.HC2O4.2C2H2O4
Usage: Mainly used in paper, mosquito coil, textile and textile dyestuffs.
Physical Appearance: green crystals with metallic ulster.
Solubility: Soluble in H2O
Storage Instructions: Basic green shall be stored in tightly closed container, store in shade, dry and well-ventilated place at room temperature. Avoid to be contacted with oxidizing chemicals and combustible organic substances. Keep it away from direct sunlight, heat, sparks and open flames. Carefully handle the product and avoid damaging the package.
Strength: - 100+3%
Packing: 25kg HDPE bag, 25kg HDPE drum
Properties
Light Fastness: 7
Heat Resistance: 160
Water Resistance: 5
Oil Resistance: 4
Acid Resistance: 5
Alkali Resistance: 5
GENERAL INTRO TO BASIC DYES
Composition:
Basic dyes are salts of the colored organic bases containing amino and imino groups and also combined with a colorless acid, such as hydrochloric or sulfuric.
Application:
Basic green and other basic dyes are cationic which has positive electrical charge and are used for anionic fabrics which are negative-charge-bearing, such as wool, silk, nylon, and acrylics where bright dyeing is the prime consideration.
Advantage and Disadvantage
Basic green, yellow, violet, blue, red dyes are brilliant and most fluorescent among all synthetic dyes. They are ideal for bright color fabric dyeing, but they have poor light fastness and wash fastness.
List of Basic Dye Colors, CAS No and Shade
| | | | |
| --- | --- | --- | --- |
| SR. NO | PRODUCT NAME | CAS. NO | SHADE |
| 1 | Basic Green 1 ( Diamond Green ) | 633-03-4 | |
| 2 | Basic Green 4 ( Malachite Green ) | 2437-29-8 | |
| 3 | Basic Blue 7 ( Victoria Blue Bo ) | 2390-60-5 | |
| 4 | Basic Blue 9 ( Methylene Blue BB ) | 61-73-4 | |
| 5 | Basic Blue 11( Blue R ) | 2185-86-6 | |
| 6 | Basic Blue 26 ( Victoria Blue B ) | 2580-56-5 | |
| 7 | Basic Yellow 2 ( Auramine 0 ) | 2465-27-2 | |
| 8 | Basic Yellow 28 | 54060-92-3 | |
| 9 | Basic Yellow 40 | 35869-60-4 | |
| 10 | Basic Violet 1 ( Methyl Violet ) | 8004-87-3 | |
| 11 | Basic Violet 10 ( Rhodamine B ) | 81-88-1 | |
| 12 | Basic Violet 11 | 2390-63-8 | |
| 13 | Basic Violet 11:1 | 39393-39-0 | |
| 14 | Basic Brown 1 | 1052-36-6 / 8052-76-4 | |
| 15 | Basic Brown 4 | 8005-78-5 / 140744-50-5 | |
| 16 | Basic Red 1 ( Rhodamine 6g ) | 989-38-8 | |